The Cut Buddy on Shark Tank
Whare it all started
THE CUT BUDDY STORY
Truthfully speaking, neither The Cut Buddy Shaping Tool nor the grooming company of the same name were invented on purpose. The original idea for The Cut Buddy Shaping Tool was an accidental life hack created to fill a simple everyday need.

Joshua Esnard, the Inventor, Founder, & CEO of The Cut Buddy, came up with the original Cut Buddy Shaping Tool idea back in 2000 when he was just a 13-year old kid in Ithaca, New York. He was tired of making too many errors trying to cut his own hair and couldn't easily get to the barbershop.

After years (and years, and years, and years....) of testing out haircut and beard template shapes to make sure his template product worked on ANY head size or hairline shape, he found the perfect design. Esnard went on to patent the original Cut Buddy Shaping Tool design (along with personal grooming tool designs) in January 2015, fifteen years after creating his first stencil at 28.
Our commitment to our heroes
SHAVE AND SAVE VETERANS
The Cut Buddy commits part of proceeds to veterans with disabilities.
Current initiative: Stop Soldier Suicide. A percentage of all online sales will go towards stopping soldier suicide.
The Cut Buddy is Buzzing
Since then, The Cut Buddy has become a Best-Seller on Amazon, sold millions of products worldwide, and been featured in GQ, Forbes, Black Enterprise, and the NBC Today Show! Cut Buddy products are in millions of homes worldwide and are now being carried in Walmart, Meijer and Target nationwide and will be coming to more stores in 2023!
MEET THE CUT BUDDY TEAM
FROM LEFT TO RIGHT:
ALEX KRESOVICH - CHIEF STRATEGY OFFICER
JOSHUA ESNARD - CHIEF EXECUTIVE OFFICER/FOUNDER
JASON BATTLE - CHIEF FINANCIAL OFFICER/PRESIDENT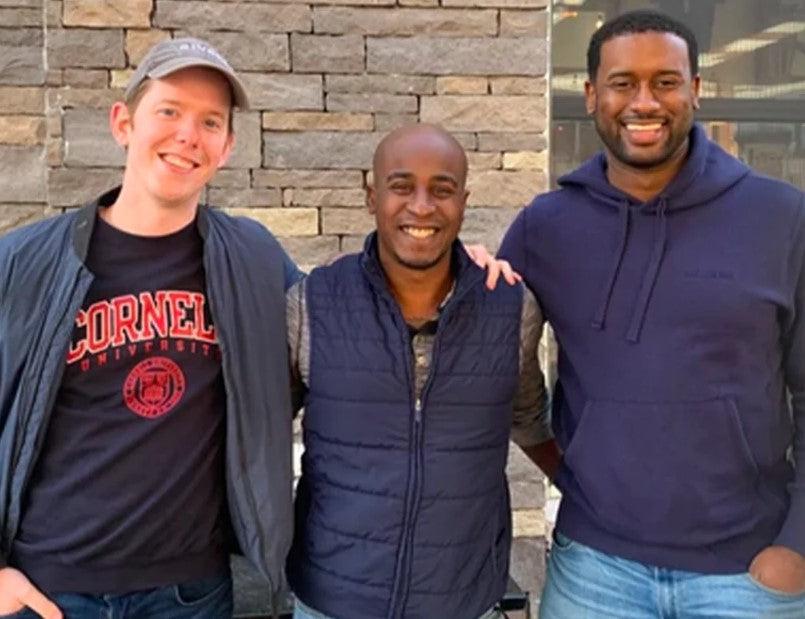 THE CUT BUDDY STORY EXPLAINED
When Frustration Led to Innovation
Like many across the country now and back then, in the year 2000, a 13-year-old named Joshua Esnard became fed up with the struggle of trying to cut his hair at home. Every time the Ithaca, New York teen tried to cut his hair or beard, it was always different - uneven lines, patchy spots, trim too short or too long. Tired of the hassle, he began thinking about others who, like himself, were unable to get to the barber shop or salon for whichever reason, undoubtedly struggling in the same ways he was. What if there was some tool that could make perfect lines for both beard hair and head hair at the same time? This question led to an innovative idea: a way to make cutting your hair at home easier!
The First Steps
The first step to bringing an idea this big to life was the prototype. The young Joshua began furiously testing and creating the first templates. It was crucial to create a template anyone and everyone could use—a universal tool that made DIY haircuts at home look professional while being easy and accessible.
It took many years for Joshua Esnard to perfect the very first Cut Buddy in 2015, which he began selling from his garage. Eventually, his idea and innovation resulted in his first appearance on Shark Tank's television show in November 2017. During his appearance and pitch for the original Cut Buddy, his passion and dedication convinced Daymond John, one of the 'sharks' on the show, to invest.
Soon, the first Cut Buddy was seen in major retailers around the country.
Cementing Quality
In 2019, Joshua took The Cut Buddy to an entirely new level when he revealed the new and much-improved version of his original Cut Buddy with an updated design. Sales spiked to over one million units sold as the unfortunate effects of COVID forced many barber shops and salons to close. Recognizing that the Cut Buddy haircut template was delivering a practical solution in a time of need, Joshua continued to stand by his commitment to high-quality hair products and tools that allow anyone to cut hair at home.
Going Further
Joshua, proud and humbled by the success of Cut Buddy, still wasn't entirely satisfied. Knowing he had more to offer, he began to expand. Along with new friends, Alex Kresovich and Jason Battle, The Cut Buddy team began putting their experiences and ideas together to provide a line of products to make all aspects of haircuts at home more accessible. Whether you had a full head, thick hair, or, as Joshua Esnard might say, ""follically challenged"" and prefer going bald—they wanted to ensure there was something for everyone.
Today, not only has Cut Buddy expanded to find itself in over a million homes and countless retailers across the country, The Cut Buddy product offerings now also include a full kit and fantastic tools that ensure your home hair cut turns out professional-looking every time. From the iconic Bald Buddy, an ergonomic bald shaver, to the popular 35-piece Hair Clipper and Trimmer combo set, Cut Buddy is proud to offer everything you need to keep you looking fresh between cuts.
The original Cut Buddy continues to be a best-seller worldwide while The Cut Buddy team continues to expand and perfect the ultimate home haircut tools for you.