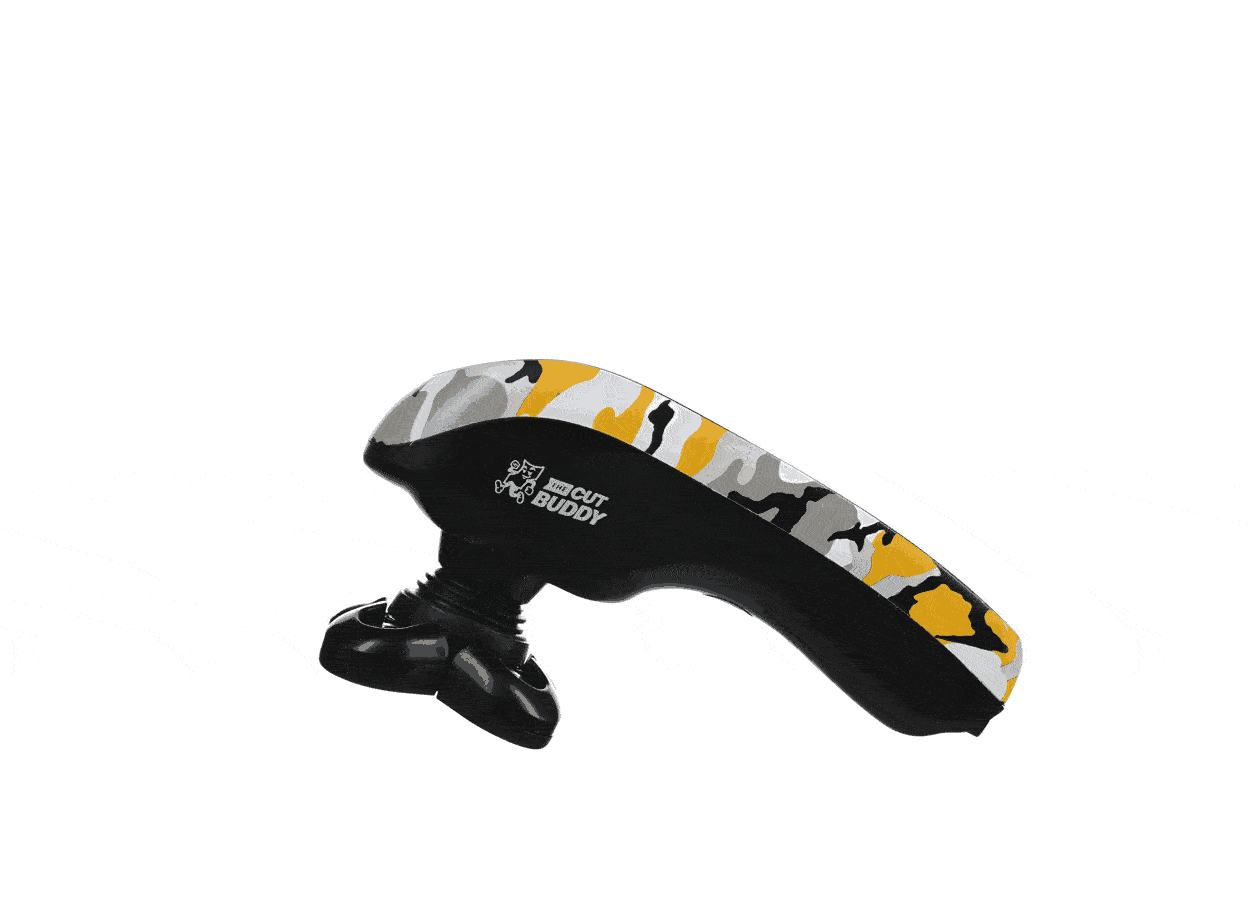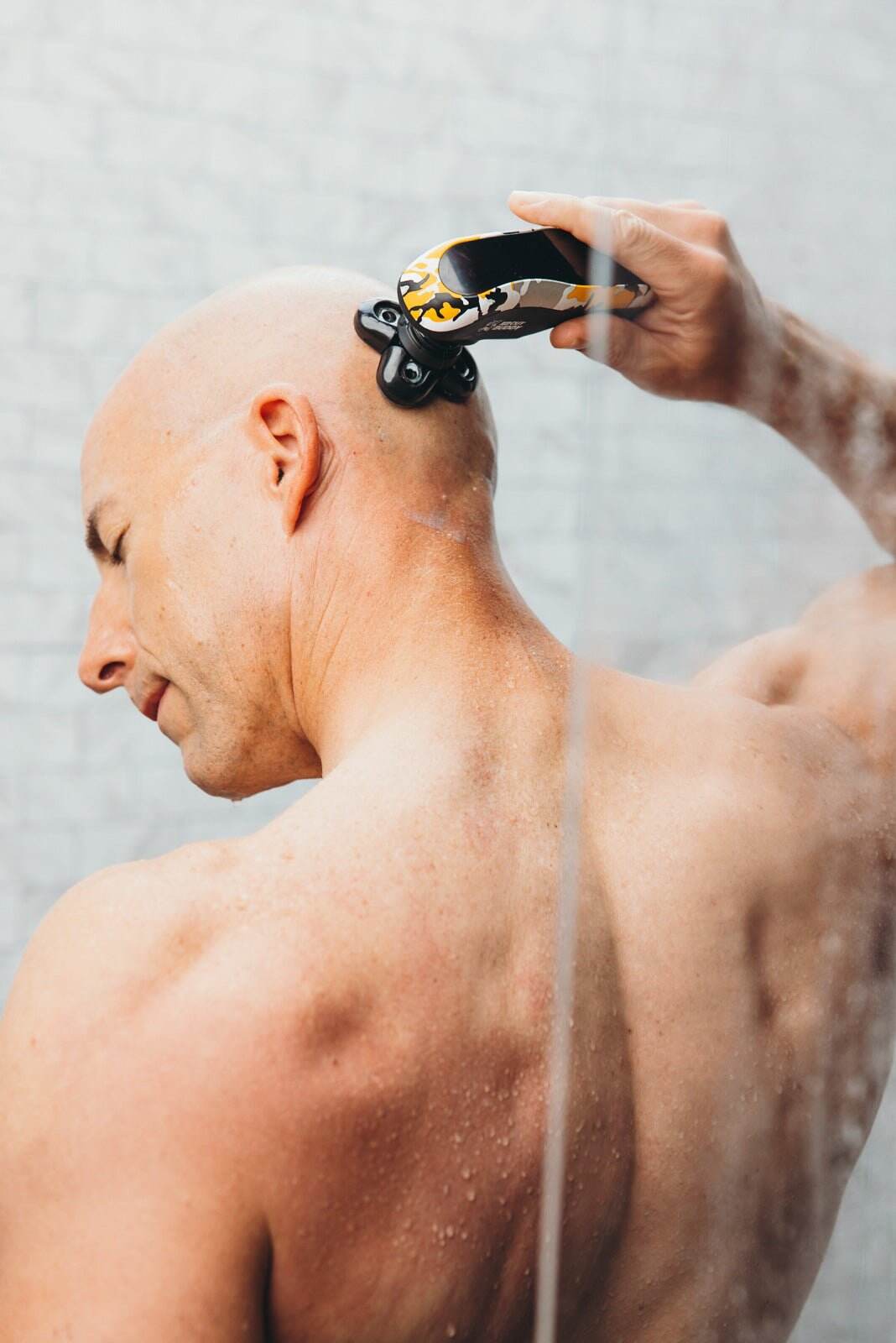 Bald Buddy - Ergonomic Bald Shaver
Product Description

Download Cut Buddy Product Manuals Here
I have coarse hair like you. Shaving really sucks for us. We share the, not so awesome, experience with razor snags, rice-crispy-treat-looking shaving bumps, and the dreaded post-shave super itch. I feel your pain. Literally!

Those days are now behind you now! The BALD BUDDY is here to help both MEN and WOMEN make haircuts, head shaving, and body shaving easier for people like us. Part of the proceeds of each unit goes toward veterans' mental health and dexterity disabilities!
The BALD BUDDY shaver is designed to feel like it's an extension of your arm, allowing users to reach anywhere on your head, face, or body.

Precision Cutting System: Give yourself a close and smooth shave
Patented Handle Design: Fits into the palm of your hand precisely, giving you a firm and controlled grip.

Multiple Rotary Blades: 5 different rotary, flex action, super-thin blades. Flex action lowers after shave irritation and razor bumps

75 MINUTES CORDLESS SHAVING: High-performing Li-Ion battery allows you to shave cordlessly for 75 minutes

The shaver supports multiple voltage levels with a USB charge ranging between 110 to 240 V, ensuring that your shaver doesn't burn out when plugged into different voltage outlets worldwide.

The shaver is also quite easy to clean as all the five cutters can be cleaned out with a quick rinse and dip in water! To clean the shaver power on the shaver and dip blades into a cup of water. The shaver will throw up all the hair that it eats during the shave.
Shaver can be operated dry or wet.
While The Bald Buddy is designed for both wet and dry shaving, understand that NOT all people should dry shave! If you are interested in dry shaving, please see our suggestions:
DRY SHAVING (WITHOUT WATER OR SHAVING CREAM) CAN WORK WELL FOR YOU IF…

WET SHAVING (WITH WARM WATER OR SHAVING CREAM) IS RECOMMENDED FOR YOU IF…

Hair Type: Thinner hair

Hair Type: Thick, Very Curly, Coarse, Tough

Head Shape: Rounder Head Shape

Head Shape: Different Contours on Head

Ingrown Hairs: You Do Not Suffer From Ingrown Hairs

Ingrown Hairs: You Suffer from Ingrown Hairs

Skin: You Have Hydrated Skin

Skin: Have Dryer Skin

Frequency: You Shave Daily

Frequency: You Shave Every 2 Days or Less

Rotary Shaving Experience: You usually only need 1 pass of shaver to finish the job

 Rotary Shaving Experience: You usually need 2 passes of shaver.

Small circular patterns as you shave.
The shaver has an easy lock feature to prevent false starts during travel or storage!
FREE SHAVING CREAM 3 OZ - Designed for Coarse Hair Infused with Jojoba, Tea Tree, and Eucalyptus.
Not tested on animals. All vegan.